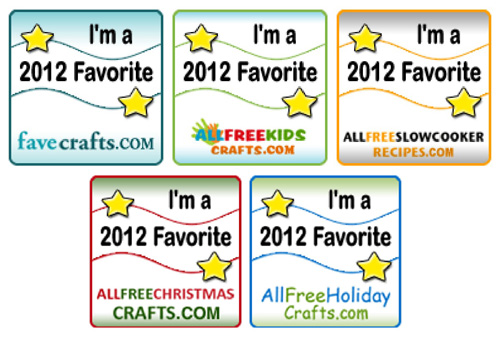 I have been working closely with Prime Publishing for quite a while now. They own a large number of websites, including FaveCrafts, All Free Slow Cooker Recipes, All Free Kids Crafts, and several more. They've released their top visited crafts and recipes for all of their sites for 2012 and have been kind enough to bestow upon me quite a few of their honors. I really appreciate all the traffic that they have sent to both Amanda's Cookin' and Crafts by Amanda over the past year, they are always in my top referrers! I'm looking forward to another great year of working together. 🙂
All Free Holiday Crafts – 100 Best Holiday Crafts of 2012 – What a fabulous year – 9 of my projects are in the top 100 for All Free Holiday Crafts! They are Recycled Light Bulb Birds, Super Easy Ladybug Caps, DIY Duct Tape Wallet, Cute Recycled Water Bottle Octopus, DIY Eyeball Pin, Cute Tin Can Mummy, Easy Paper Plate Mummy, Upcycled Glove Turkey and Adorable Wooden and Clay Pot Elf.
All Free Kids Crafts – Top 50 Fun and Easy Kids' Crafts of 2012 – including my Glitter Paper Leaves and Tropical Reef Fish.
FaveCrafts – Top 100 Crafts of 2012 – for my Plastic Cup Flowers and Recycled CD Coasters.
All Free Slow Cooker Recipes – Top 100 list of 2012 – for my Cowboy Casserole.
All Free Christmas Crafts "2012 Favorite" – Top 100 Projects for 2012 – I am honored to have had 6 of my projects (Country Wooden Santa, Light Bulb Penguin Ornament, Black Pine Cone Wreath, Light Bulb Snowman Ornament, Paint Stick Snowman, and Epsom Salt Luminaries) in their list this year!
Thank you again for a great year, looking forward to 2013!