In January I attended the Craft & Hobby Association trade show. It's not open to the public, but rather to craft industry professionals, manufacturers, vendors and the press. Hundreds of booths decorated to the hilt with all of that company's new and existing products they want you to see. It's a great way to see what's new in the craft industry and I thank DecoArt for allowing me the opportunity to attend. While I was there, I hosted a Make & Take at DecoArt's booth each day. You can see the Dictionary Magnets I demonstrated and helped people make over on Crafts by Amanda.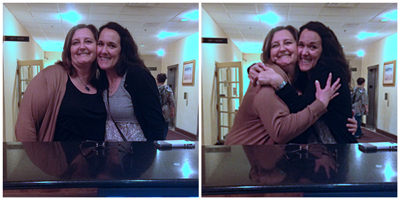 Upon my arrival Friday night, I met up with my amazing friend, Jen Goode, an illustrator and crafter extraordinaire.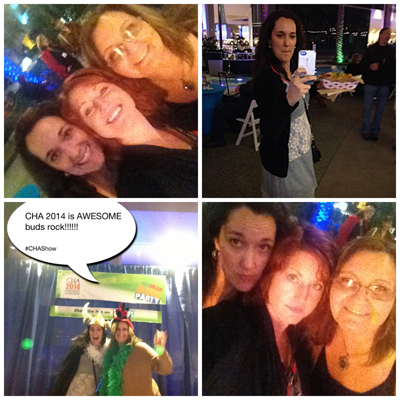 From there we hit the CHA Block Party where we talked, mingled and a had a few drinks. The food trucks were all lined up and we were able to enjoy some delicious food too! Also pictured here is Jenny Barnett Rohrs of Craft Test Dummies. It was definitely fun being able to meet Jenny, she's fun loving and full of energy!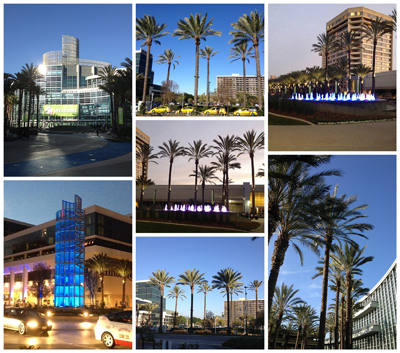 The convention center in Anaheim was consumed by CHA, it's that big. It's really a beautiful area, even though it's completely engulfed in hotels. There's a beautiful fountain outside the convention center and the weather was gorgeous. A far cry from the polar temperatures back home in Wisconsin!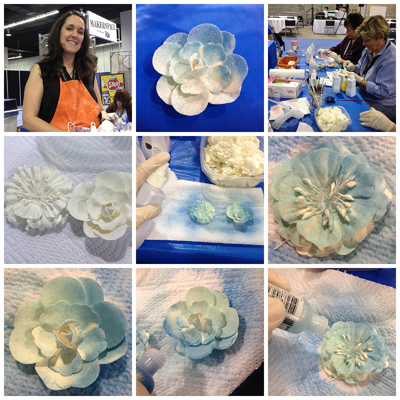 There are a ton of make & takes at CHA. Vendors want people to try their products hands on, hopefully generating not only awareness and excitement, but also future sales. Jen was having a make & take on behalf of Rit Dye and I really had fun with it. It gave me a new view on Rit, which is exactly what they wanted. Well done!
I spent a little time at Duck Brand's booth (which was actually their bus) as well and was able to see some of their new patterns! I haven't officially announced it here yet, but my new craft book, Duct Tape Mania!, will be out this fall.

So it was great to be able to have a look at what's up and coming.
Coolest things I saw at CHA? This blinged out Kitchenaid mixer was pretty dang awesome (via Instagram). But folks, this is like an art exhibit, it's not meant as a craft project, but more an expression of the artist. Also, there was a really cool new gadget called the 3D Doodler. It's still in its start up phases, but I can see this amazing gadget doing really well!
Another really cool thing was this Leather Studio paint at the Plaid booth. It allows you to paint directly on leather and dress up something old. Love the idea!
Here's Angie from Country Chic Cottage doing a make and take for DecoArt.
And Mark Montano demonstrating DecoArt's new Chalky Finish paint available at Home Depot.
Here's a look at DecoArt's chalky finish paint for glass that I can't wait to try! These bottles looks so beachy and cool, perfect for a coastal look.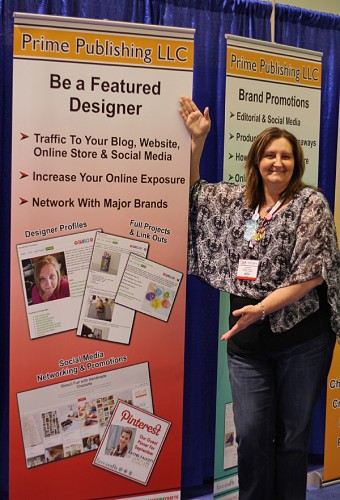 I also saw my good friends from Prime Publishing and wow! They put me in the spotlight, how nice of them! 🙂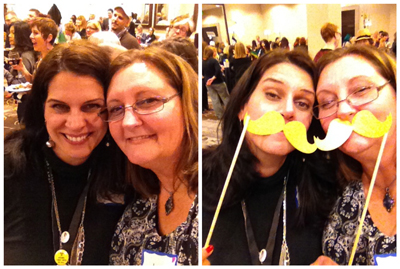 And finally, it was an absolute pleasure meeting and hanging out with Viv of The V Spot. She's a fabulous person and a lot of fun to be around. We are pictured here at the Prime Publishing Blogger Party.
CHA was a lot of fun and it's so great to be around so many creative minds at once! Total bonus that it was in sunny California. Until next time!