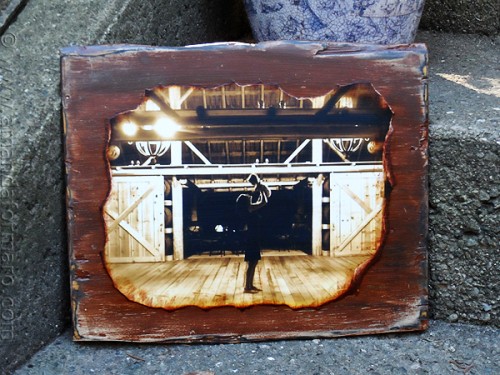 I have developed quite a few lasting friendships over the past 3-4 years due to my cooking and crafting blogs. One such friend is Maria of Two Peas & Their Pod. Maria and Josh have a gorgeous baby boy named Caleb, whom I have had the pleasure of holding, cuddling and oogling over twice this year. Once was at BlogHer Food in Seattle, and the other was in Park City, Utah at the Evo Conference. Maria and I met in person for the first time before Caleb was even a twinkle in their eyes, at the Sams Club event we attended together.
Caleb is Maria and Josh's first born, so to commemorate their bond and celebrate his first birthday, I used a gorgeous photo of Maria and Caleb in a rustic barn at a vineyard they visited. Maria wanted the plaque to continue with the rustic barn feeling that is  in the photograph, so a brown background with black and white undertones was used. There's also a rich cinnamon stain to top it all off.
Maria emailed me when the plaque arrived: "We LOVE the picture!!! Thanks SO much!!! xoxo"
Thank YOU Maria and Josh for allowing me the opportunity to seal that magical moment forever. Happy birthday Caleb, and congratulations to Josh and Maria for having such a happy and healthy baby boy.
Visit my portfolio to see more examples, or my Custom Work section for additional information.