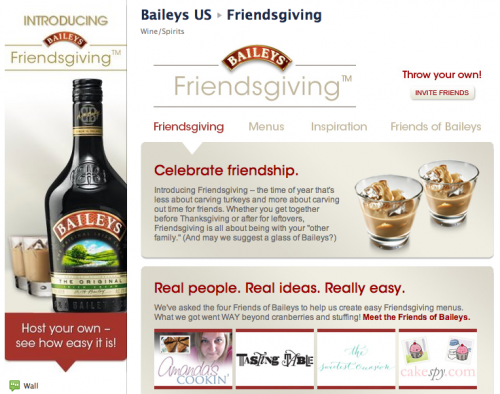 A couple months ago I was contacted by Bailey's Irish Cream. They introduced a concept to me that they were working on and wanted me to participate using my food blog, Amanda's Cookin'. The idea behind Friendsgiving is to celebrate what you are thankful for with your friends. Thanksgiving is reserved for family, so Friendsgiving is a great alternative and a nice way to get together with friends and show them what you mean to them. Bailey's has a section on their Facebook page dedicated to Friendsgiving and the 4 bloggers, myself included, who participated in this fun event.
I was happy to work with Bailey's, so once the formalities were out of the way, they asked me to present some ideas for celebrating with your friends. I created a menu based off of Italian-American dishes and offered several tips and ideas for hosting a fun get together. The biggest thing for me was keeping things simple and casual. I'm a midwestern girl and there's not too much that's fancy about me. It was important to me that my Friendsgiving event reflect that as well.
Over the next week I'll present my ideas, menu and recipes. We really enjoyed getting together with a few friends and having dinner, drinks and a few laughs. I hope you'll follow along on Amanda's Cookin' and on Crafts by Amanda, where I'll share a fun take away gift you can make as well!