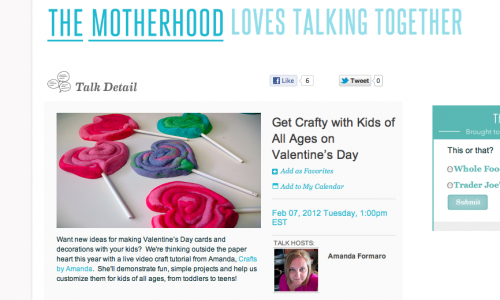 Back in December I hosted a live video demonstration for Rice Krispies and The Motherhood. They've asked me back as a regular video chat host to demonstrate easy crafts for kids. The pilot show will be an easy and fun Valentine craft that can be adapted easily to your child's age. So whether you have a toddler or a teenager, I will show you a fun craft that everyone can enjoy!
What: Get Crafty with Kids of All Ages on Valentine's Day – Live Video Presentation
When: Tuesday, Feb. 7, at 1 p.m. ET. We will chat for 30 minutes!
Where: On The Motherhood, right here
Who: The chat will be hosted on live video by yours truly. I'll have the honor of the following fabulous bloggers joining me as my co-hosts:
Breanna, Dollar Store Mom
Carissa, Creative Carissa
Colleen, Mural Maker and More
Heidi, Honeybear Lane
Jenny, Craft Test Dummies
Lisa, Condo Blues
You can join the chat and conversation on Twitter too @theMotherhood! My twitter ID as well as those of my co-hosts are below. The hashtag will be #theMotherhood
@amandascookin
@dollarstoremom
@carissa_marie
@muralmaker1
@HoneybearLane
@CraftTestDummy
@condoblues
So be sure to mark your calendars and join us for 30 minutes of Valentine fun! My fabulous co-hosts will also be sharing plenty of Valentine crafts and photos, so you won't want to miss it! See you there. 🙂