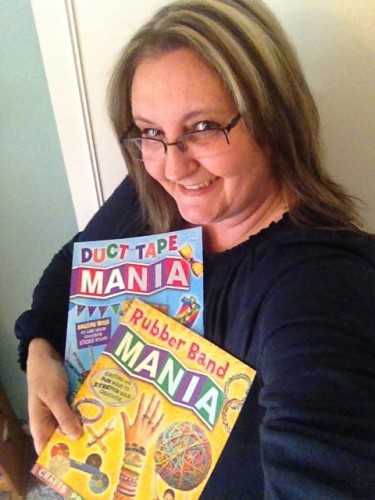 They're here! A package arrived today carrying a few copies each of my brand new craft books for kids, Duct Tape Mania
and Rubber Band Mania
! This was an exciting day for me, to finally see them in print, to be able to hold them and flip through the pages! Yesterday I discovered that they were already on Amazon (available for pre-order, the books will be available August 26, 2014) and that was exciting as well! I really haven't been able to say much about the books up until now, so to give you a brief synopsis, the projects within these pages are appropriate for kids aged 6-12, with some true classics and some new projects as well. These books are great for kids that are looking for fun activities that aren't too difficult.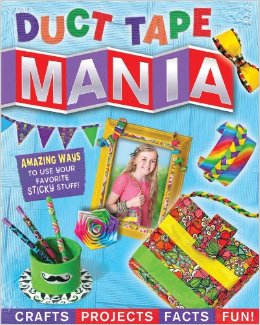 Duct Tape Mania
contains plenty of projects for both boys and girls and offers a variety of beginner and intermediate crafts. The pages are full of colorful step by step instructions with plenty of fun facts and trivia sprinkled throughout.
My favorite duct tape project in the book? There are two: the Football Game and the Pom Poms. You remember playing football with a piece of paper folded into a triangle over and over again? My version takes that a few steps further! The pom poms? Just plain FUN!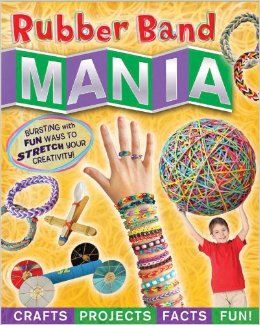 Rubber Band Mania
was a blast to put together, who knew there were so many things you could do with rubber bands! There are of course different types of rubber band bracelets, loom or no loom, but it's much more than just that. Just like the duct tape book, these pages are filled with projects for both boys and girls, with some fun tricks and several bits of trivia.
My favorite rubber band project in the book? Hands down, the rubber band powered car. I. Love. It. I do! I'll admit, I played with it over and over again after making it and love to show it off. 🙂
I hope to have more information soon. Sounds like Target has shown an interest in carrying the books and there has been a lot of other interest as well! So hopefully you'll see these two in stores this fall. Remember, Amazon has them available now for preorder if you prefer to order now (they are at a special locked in price too!).
I really want to thank my Editor, Elizabeth Bennett, and Art Director, Karen Viola of Studio Fun International, Inc. (formerly Reader's Digest Children's Publications). They have been an absolute JOY to work with and I'm so glad they presented this idea (The Mania series!) and chose me to work with. I am honored and humbled, thank you for being so wonderful!
UPDATE – My next 3 books will be released in August of 2015: read about Button Mania and Paper Fun Mania here, and Star Wars Mania here!
In the meantime, you can find plenty of craft projects for kids and adults on my craft blog, CraftsbyAmanda.com