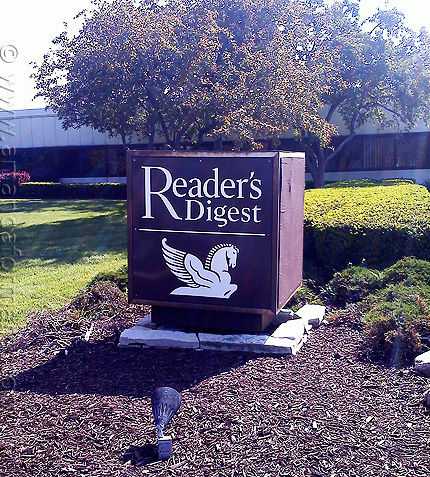 A couple of weeks ago I visited Country Woman Magazine, a Reader's Digest publication. Their Craft Editor, Shalana Frisby, gave me a tour of their building and I was able to get a glimpse into the behind the scenes action. The funnest part for me was the "prop loft", an upper level area filled with colorful plates, cups, mugs, trays, accessories, pans and more. For a food blogger like me, this was pure heaven.
You can head over to Craft Gossip to see my full story on Country Woman Magazine and my fabulous visit there!
After talking at length with Shalana, she took me on a tour of their offices and styling areas.
On our way to the styling area, we passed one of the many test kitchens belonging to Taste of Home Magazine.
 These ladies were preparing some wonderful dishes as we passed through. That gallette looked amazing!
Next it was on to the styling areas, but first we walked through a section that reminded me a bit of Home Depot with its high ceilings and stacked shelves. On those shelves were all sorts of different tables, chairs, side tables, room accessories, shelves, bookcases, etc. Styles included rustic, chippy, country, and vintage. There were large sheets of foam core board covered with all sorts of textured wallpaper to be used as wall props for photo shoots. When you see those beautiful photo shoots with all that cool furniture, this is where they came from.
This picture is of smaller foam core boards, though they are much larger than the ones you get at WalMart! These are also used in photo shoots and they had just about every color imaginable.
Next we walked through the styling area. This is where all of the craft and food stylists work and take those beautiful photographs.
Pam, one of their most talented stylists, was kind enough to let me grab a shot of her. She was busy putting together a photo shoot of a mouth watering cranberry bread for one of their holiday issues.
At the far end was the stylist kitchen where food is put together and later photographed.
Above the stylist kitchen was my favorite part – The Prop Loft. This is where all of the photo props are kept. Several huge rows filled to the brim with beautiful plates, bowls, dishes, and more. Anything you could ever want for a beautifully styled food or craft photographs.
Everything is sorted by type and color. As you can see, this shelf holds all sorts of color coded cups and glasses.
Sugar bowls, creamer pitchers, picnic items.. milk glass, ceramic, glass…
Gorgeous ruffled cake plates..
Ohhh I really wanted to bring these bowls home with me.
The plates were fabulous. All sorts of colors, designs, scalloped, straight, vintage, modern, and everything in between.
This is known as the Ribbon Wall. It lives on the wall along the staircase that leads up to the Prop Loft. This ribbon is used for styling both food and craft shots.
I hope you enjoyed the tour s much as I did. Special thanks to all of the amazing people at Country Woman Magazine for allowing me to come in and disrupt their day for a few hours. It was such a pleasure!
Don't forget to read my story on Country Woman Magazine at CraftGossip to see even more, including a glimpse into the craft editor's work space!