I made a trip out west in late April this year. It was my first time attending SNAP Conference, a blogging conference for creative people in the craft, DIY and lifestyle realm. It's certainly not my first conference, probably my 5th or 6th, but the first time I had been to SNAP.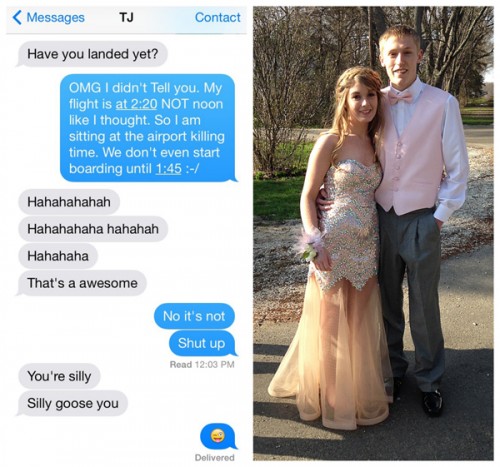 I have to say that sometimes when I travel and go to conferences and events, it's tough on me emotionally. I have always tried to attend every single event in my children's lives. I've been to every play and music recital, and almost every single sporting event there was. I only have two left in high school, the older two are out of the house already. My 17 year old, pictured above with his positively adorable girlfriend, Taylor, had Junior Prom the weekend of SNAP. I previously cancelled a trip to a Michaels' Craft Store event in Dallas because I didn't want to miss his eighth grade graduation. He kept saying "Mom, it's EIGHTH GRADE, who cares? Go on your trip!" To him it was no big deal, but not so for me. One of my babies was moving on to high school and as much as I wanted to go to Dallas and attend the event, I wanted to watch my son graduate even more. So when this trip was planned many months before, I didn't know that prom would fall on that weekend. He promised to send me pictures via his iPhone, and he did. I received this photo right in the middle of the Google Plus session and started crying instantly. I so wished I could have been there to take the picture myself.
And if you read the text conversation above, you will see he has a great sense of humor. I received this text while sitting in the Milwaukee airport after I discovered that I misread my departure time. Turned out I had an extra two hours to kill. He thought that was pretty funny. 😉 Teenagers!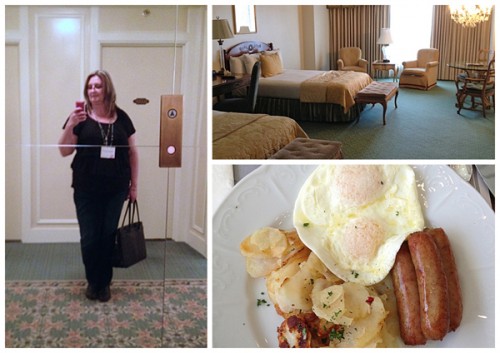 The conference was held in beautiful Salt Lake City at the Little America Hotel. Though aside from dinner the first night, I never left the hotel the four days I was there! The room was lovely and quite spacious, and while I had the room to myself the first night, my friend Kim from Today's Creative Blog was my roomie for the remainder of the trip. And, I can't believe we didn't get a single picture together! We had a great time chatting though, for hours some nights, which is actually the main reason I come to these events now. While the sessions are great, they are often geared to newer bloggers, and I've kinda been there and done that, ya know? I started blogging in 2008 and before that was a webmaster for 10 years. So I get a lot more value out of the networking, personal relationships and great individual conversations!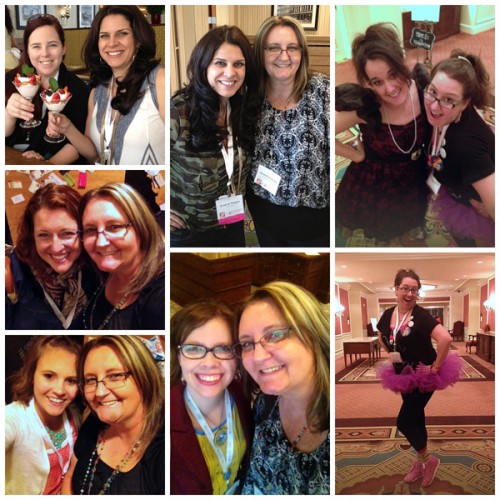 And speaking of friends.. I saw many of them during that trip. Unfortunately I didn't get photos with all of them as it was such a busy place. Some friends, like Vivienne of The V Spot (pictured top left and top center), Jenny of Craft Test Dummies (left center), Jen of JGoode Designs (top right), Bev of Flamingo Toes (bottom center) and Alexa from I Love to Create (top right and bottom right) I've met in person before. While others like Michelle of Delicate Construction (top left) and Heidi of Honey Bear Lane (bottom left) it was my first time seeing them face to face. There were so many others I was able to catch up with or meet for the first time! I wish I had pictures of everyone. This is the absolute highlight of every conference I attend. Getting to know and talk to my fellow bloggers and friends. With so much in common, how could we not click?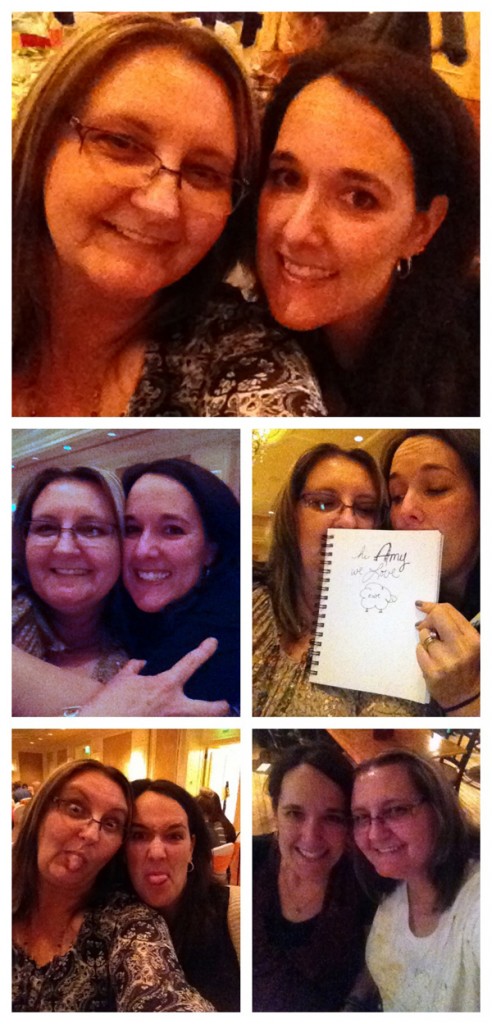 And speaking of blogging friends, I have to give a special section to Jen Goode. I'm not discounting all my other bloggy friends, absolutely not. But Jen and I are close. We talk weekly about improving our blogs, our businesses, client relationships, and time management. We discuss what's working and what's not, and frankly, I'm bummed when we miss a week. Jen isn't just a fellow blogger, she's a friend, a DEAR friend. It's so great when we get to see each other in person, and I'm sad when we have to say goodbye.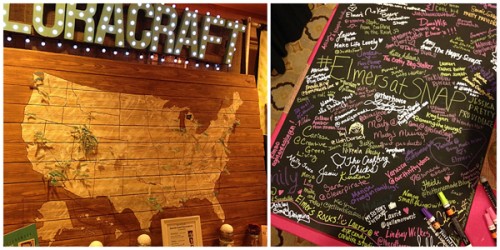 I can't believe that I only snapped two pictures from the sponsor booths. There were so many great sponsors, and they are one of the main reasons that we get to go to these conferences. If it weren't for them, our tickets would cost a lot more, most likely prohibiting many bloggers from attending. So thank you to all the sponsors!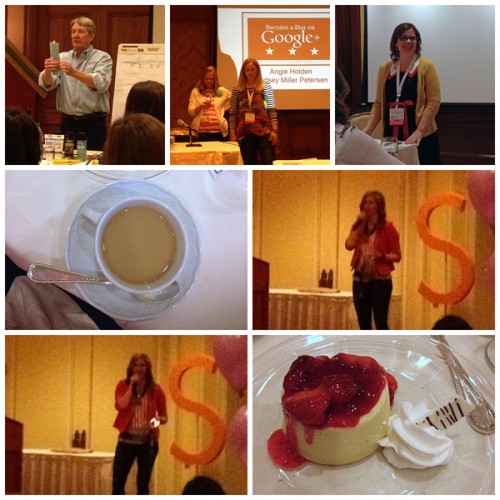 The sessions at SNAP are mostly beginner level. So I didn't attend a ton of them, but I did enjoy going to the Minwax session on properly staining wood, the Google Plus session with Angie Holden and Lindsey Peterson and Bev's class on making a piece of jewelry. That's something fun about SNAP, because it's a creative conference there are several hands on sessions that include actually making something. There were also several key note speakers, including Olympic medalist, Noelle Pikus-Pace, who came back from a devastating accident to win the silver medal. Her speech was warm, funny, heart wrenching and inspiring!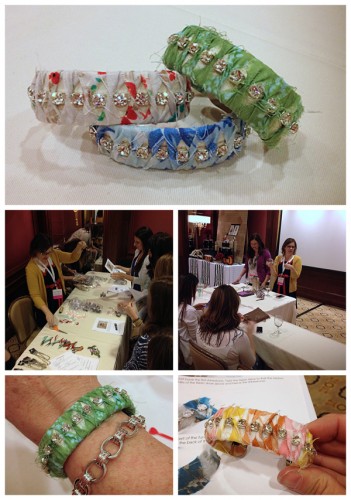 And speaking of hands on sessions, the one I attended was the jewelry class. I have a yearning to learn jewelry, but have only dabbled a couple of times. I have always been a big fan of Bev's blog, Flamingo Toes. Everything that she makes is amazing! She taught us how to make her Interval Sparkle Cuff, an Anthropologie knock off. I love how they came out!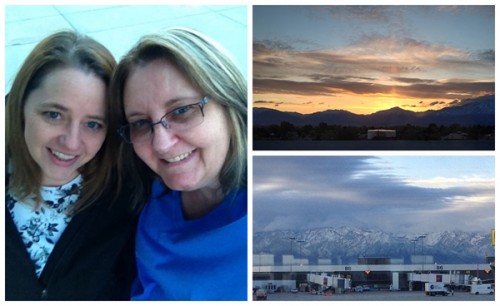 This trip I spent the last night with my good friend, Katrina from Baking and Boys. I stayed in her guest room two years ago when I attended Evo Conference in Park City. It's always so fun to be able to catch up with friends! I only wish everyone didn't live so far away. So thank you Katrina for your hospitality!
Overall SNAP was a great experience. The food was amazing, the venue beautiful and the relationships? Well, they speak for themselves.