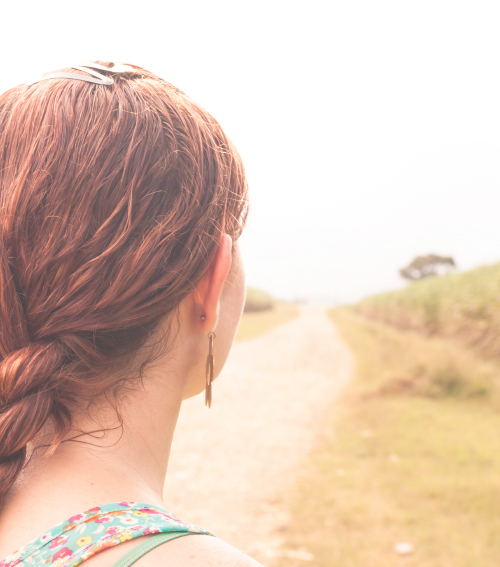 I was reminded the other day that we shouldn't judge people by the way they look. I taught my children not to do it, yet there I was, standing in the customer service line at Walmart doing exactly that.
There were two women in front of me and it was their turn at the counter. One woman was heavy set, and the other was terribly skinny. As I looked the skinny one up and down, I caught myself silently judging her. She looked borderline anorexic, her appearance was sloppy. Maybe she was a drug addict.
She was talking to the woman behind the counter, I could see her lips moving, but I couldn't hear anything. At first I thought maybe she was deaf because her hands were moving around, but it didn't take long to realize that it wasn't any sort of sign language.
She was whispering.
But not the kind of whispering that you do when you tell a secret. She was whisper-talking. She was literally talking, and only a whisper was coming out. Needless to say I was unable to hear anything that she was saying, not that it was any of my business mind you. But as she chatted with the woman behind the counter, I became increasingly impatient. There was another employee behind the counter as well, but she was too busy chit chatting with yet another employee rather than helping me (or acknowledging my presence for that matter).
All of a sudden the WalMart employee talking to the whispering woman exclaimed "Oh that's WONDERFUL! I'm so very happy for you!" The skinny woman and the heavy set woman exchanged a high-five, a few more words were said then they finally left.
Good! It was about time, I felt like I had been waiting forever.
The customer service rep called me to the counter and began working on my transaction. She started telling me a story about the skinny woman that whispered.
"One day her voice started cracking, and within a few days she couldn't speak louder than a whisper. A few days after that she was diagnosed with throat cancer."
A shiver went down my spine and I was immediately ashamed.
I never even considered that this woman could be ANY OTHER woman (or man) out there. She could have been me, or you, or my best friend. Cancer doesn't care who you are, what you dress like, what car you drive. Cancer has no prejudices and doesn't judge. But here I was – judging.
She continued to tell me that the congratulatory exclamation was because the whispering woman had told her that after many months of treatment she was now in remission. It was because of those treatments that she was so thin. And, here I had been judging her. Guessing that she wasn't taking care of herself, or was maybe even a junkie. Shame filled me once more.
She also said that the whispering woman had small children at home and she had been struggling to care for them while caring for herself. What a happy day it was for her!
I left feeling embarrassed for myself, even though no one other than me knew I had been secretly judging her with my eyes. I forgot to consider that she had a history, a family, a reason to live. I just looked at her and started drawing conclusions, mostly out of annoyance because I wasn't being helped fast enough.
So today, I am reminded that we shouldn't judge a book by its cover, because truly, you never know what might be inside…