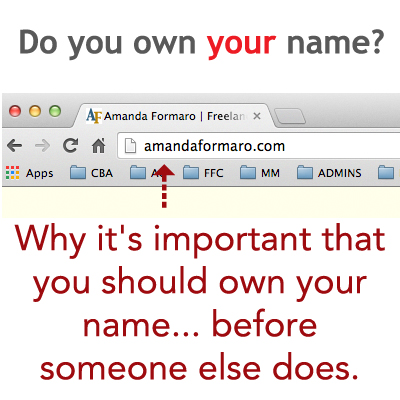 There are many reasons that you should own your name as a domain. It doesn't matter if you work for yourself, for someone else, or don't work at all. Yourname.com is not just for businesses.
In 2007, I sold my website of ten years and shortly thereafter bought the domain AmandaFormaro.com. It wasn't until after I sold that first website that I realized the true importance of my online presence as a freelancer. With my first website sold and gone, how would people find and hire me?
Your story may be different, but the end result remains the same. You need to own your name and here are several reasons why.
It's Budget Friendly and Low Maintenance
Domains are inexpensive, usually around $15.00 or less per year. That's about $1.25 per month. If you register your domain
for more than one year at a time, most registrars provide a discount. You need only buy the domain then renew it when it expires, almost no maintenance.
It's Your Identity
Protect it, even if you never plan to create a website. It protects you from unsavory individuals or even an ex with a vengeance. Anyone can buy your name and turn it into a slanderous website. There are plenty of domain squatters out there too, buying up domains in hopes of selling it to you later at an inflated rate. While you're at it, buy your spouse's name and your children's too.
Niki from HomeMadeville owns her own name but doesn't publicize it via her blog. "I bought it as a portfolio for my business, not my blog. I thought it would be the best way to brand myself. If my goals change, the site can change too and the domain will still be relevant. The idea of claiming it so no one else could was a bonus."
Potential Employers Are Looking
Don't be surprised if you apply for a job and your potential employer searches you out. Statistics show that 80% of employers do a web search on their applicants. Establishing a simple website that includes your resume and a bio can go a long way to landing your dream job.
Julianne Puckett purchased her name to use as a resume and portfolio site. "Prior to blogging, I worked as a web designer, information architect and user experience designer. Because I was applying for IT type jobs, it was ideal to showcase myself electronically, using the medium in which I'd be working. It was a lot hipper and easier to point potential employers to my site in an email, rather than attaching a resume."
A Hub for Multiple Sites
I personally own a total of 4 sites: 2 content blogs, an aggregate site and my portfolio blog. AmandaFormaro.com is essentially a hub where you can see what blogs I own, whom I've freelanced for, where I've been and more. It's a great way for the multi-tasking entrepreneur to encompass everything they do.
Sarah Caron says "I am a freelance writer who also blogs, so it made sense to me to own my name domain to use as a virtual resume for potential clients. I use it to keep my clips in one place, which is also great for marketing since editors can pop over and see the breadth of my work with just a click or two."
Online Portfolio
If you offer a service such as photography, writing, or design work, a portfolio of your work is a must.
Carla Cardello bought her domain because she needed an online portfolio. "I'm a videographer and photographer. Employers and clients often ask for samples of my work. If your job is in the digital world, many employers require a portfolio link when applying."
Great for Branding
Whether you own your own business or work for a big corporation, people that you network with get to know you by name. It makes sense to have an online presence.
Jeff Korhan, author and social media expert says "In a world where more than 50% of all consumers make business decisions based upon online information, it is important to manage, protect, and own ones personal online identity. Now that everyone has access to media, every person is their own personal brand."
Vicki O'Dell says she bought her name because the one she really wanted was already taken. She uses her name domain and named the blog The Creative Goddess. "The Creative Goddess is a pretty popular moniker so I have some competition for it. Co-branding The Creative Goddess and Vicki O'Dell lets me be in two places at once."
Personalized Email
Even if you don't create a website, you can still have a personalized email address with your name in it. It's easy for friends, family and colleagues to remember.
"It made sense to 'own myself' online," said Carolina Moore. "I wanted a custom URL to use for my e-mail account, and what makes more sense than your own name? Anyone I send an e-mail to can see I have a custom domain, look up that custom domain, and have instant access to my bio and body of work. It's like a digital business card!"
You Own a Business
Even if your company name doesn't include your personal name, it's still a good idea to own it. Bob Phibbs, owner of The Retail Doctor said, "I purchased bobphibbs.com probably twenty years ago. While I had trademarked my business as The Retail Doctor, I didn't know if people would search for my newbie brand or my name." While Bob currently forwards his name domain to his business site, owning the domain gives him the option to create a separate site should he see fit.
My Name is Taken, Now What?
You've gone to a registrar to purchase your name and found that someone beat you to it. There are some options:
Go to the Network Solutions WhoIs Database and enter the domain into the search box. When the results are displayed, look for "Registrar Registration Expiration Date". Set a reminder for yourself and see if the owner allows it to expire, allowing you the opportunity to buy it.
If the domain is not being used for a website, you can contact the owner and see if they are willing to sell it. Only you can determine in dollars what it's worth.
Create an alternative domain that includes your name. Amy Anderson of Mod Podge Rocks bought amyandersoncrafts.com. "I chose something that had a keyword for what I do and tacked it onto my name. I do so many things that having my own designer URL is crucial. It also gives me a place to show my expertise in the industry in ways that I can't on my content blogs."
Why I Bought My Name
When I created AmandaFormaro.com my goal was to provide a portfolio of my work for potential clients, a hub for my blogs, and a place where I could post accolades and press mentions. My hope was that potential clients would be able to find me via this site.
I recently completed two craft books with Studio Fun (formerly Reader's Digest Children's Publications) and am working on the next two in the series. When I asked my publisher how she found me, she said she had searched "freelance crafter" and AmandaFormaro.com was on the first page of results. After chatting and getting to know each other to see if the project was a good fit, I asked if she needed me to send her any credentials or references. She responded, "No, I don't think so! Everything I need is right here on your site."
I've worked hard to brand my name rather than just my individual blog names. Because of it I'll be a published author this fall with a series of books in the works. While my portfolio site receives the least amount of traffic of all my blogs, it provides the most professional return and does exactly what I created it to do.
You can get your domain free from Bluehost. After you've purchased your domain, see how you can set up a WordPress Blog in 15 minutes with Blue Host.
Isn't $15.00 worth it to you?
This post contains affiliate links, which means I may earn a small commission if you purchase something from one of them. If you do, I thank you. 🙂 I hope this article was helpful.