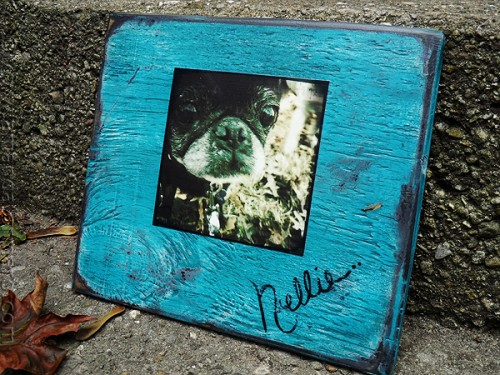 If you frequent craft and DIY blogs, then chances are good that you've heard of the Mod Podge Queen, Amy Anderson of Mod Podge Rocks! So needless to say when Amy sent me a picture of her adorable pug, Nellie, I was a little intimidated. Amy is my good friend, don't get me wrong, but she's the Queen of Mod Podge! To make a plaque for her was an honor.
The picture of Nellie is an Instagram shot with a dark filter. Amy is infamous for loving teal and turquoise. So when I made her plaque I felt it fitting to use dark undertones and a turquoise top coat. Adding "Nellie" in handwriting at the bottom was the finishing touch. Isn't she too cute!?
From Amy: "Hey girl! I just got it out of my box about an hour ago. It's amazing! I cried. Thank you so much!!!! Seriously, it's awesome." Thank you Amy! I'm thrilled that you are happy with it!
Visit my portfolio to see more examples, or my Custom Work section for additional information.